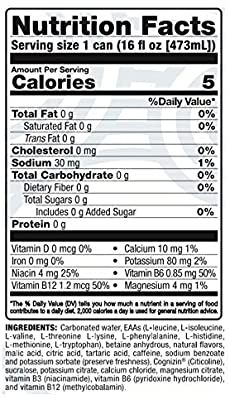 The makers of the legendary Bang® energy beverages and trendsetting innovators of the modern-day performance-beverage category present NOO FUZION™ — an explosive next-generation pre-workout! This ultra-potent, high-performance drink focuses on both mental and physical performance enhancement. Fueled by a staggering 10,050 mg of active ingredients, NOO FUZION™ is scientifically formulated by Bang Energy's CEO & Master Blaster® Jack Owoc.
NOO FUZION™ Pre-Workout utilizes a novel scientific approach designed to promote lean muscle growth, energy, focus, recovery and performance. Powered by a 7,000 mg full-spectrum blend of essential amino acids (EAAs), including BCAAs, along with 2,500 mg of betaine anhydrous, NOO FUZION™ is designed to optimally increase muscle protein synthesis.
But the real secret behind the awesome power of NOO FUZION™ is NOO FUEL™ — what Owoc calls COGNITIVE CANDY™ — which provides the ultimate mind and body experience!